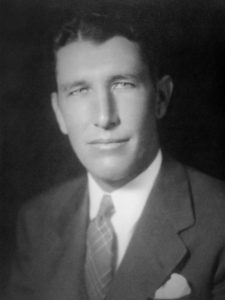 District: 1
Hometown: Oklahoma City, Oklahoma; Oklahoma County
Birthplace: McMinnville, Tennessee
Spouse: Ida Bell Seitz Jones
Sterling Brown (Dick) Jones and his family moved to Okemah, Indian Territory in 1906. Jones was a high school athlete and was later recognized as the outstanding senior man at Oklahoma University by being awarded the Letzeiser medal. He joined Pi Kappa Phi fraternity at Oklahoma University. After attending the university's law school, Jones and his wife settled in Okemah and eventually became the parents of four children.
While practicing law Jones was elected County Attorney for Okfuskee County in 1928. He was appointed to the Court of Criminal Appeals in 1940 by Governor Leon Phillips to fill a vacancy created by the death of James S. Davenport. He served until 1956 when he was defeated by Kirksey Nix. From 1972 to 1978 Judge Jones served as a District Judge for Oklahoma County.